The real man behind MCAries !
MeAries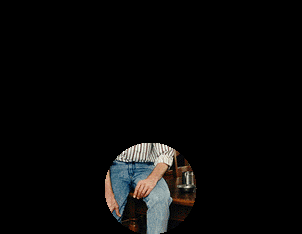 © Juli 1997 - MCAries
Gee ... when I went to the photo shop to collect my pictures, they told me there was a little problem with my picture. When they took the picture they were trembling so they couldn't make a nice picture of me. Yeah right, I already hear you say : "Well, they never can make of beautiful photo of you !" ... hahaha ... You see only a moving "spot" which is moving with an angle of "sin t, cos 3t" ... and they can't change it anymore ... And since it is my only picture they took, I can't do anything else than to put this in my Homepage ... Maybe next time a better picture !?
I hope you will like it ... LOL ...

If you look very close, you will establish that :

I am 1.89 m (6 foot 2 inches) tall and most of the time I weigh 74 kg (163 pounds).
I have black hair and some of them are already gray ... yeah ... but some women like that.
I have green-blue-gray eyes. Hey ... what a lot of nice colors, eh !

I am a teacher in science (biology-chemistry-physics) and geography but since 1991 I am on retirement because I have CFS (Chronic Fatigue Syndrome). In some magazines they also call this disease "The illness of the living dead" or "People who are too tired to die", well maybe that scares you but there is some truth in it. Read in "my story" all about it.

I loved my pupils and we really had a good time. I still miss them a lot although they will be adults right now. I loved to teach and I also had a lot of respect for them. Most of them loved me too. Of course there were always some bores too. I spent a big time with immigrants (Moroccans and Turk). It was really very hard to teach them because most of them didn't know the language and they only came to learn a profession and all the rest was bulls**t for them. I gave lessons to children who learned for car mechanic, metalworker, woodworkers, diamond worker. In the diamond class, I met a lot of other races : I saw children from all over the world ... great ... One year I was in Belgian's most famous school for ballet. Maybe you will know our famous "Ballet van Vlaanderen" (Ballet of Flanders). That was really great fun. I often went to see the dress rehearsals of a performance of my boys and girls.
The first years when I was I teacher, I taught everything, how to cook, how to make music, how to do the laundry, ... just name it, I did it all ... Hey that was really a hard time because I had to study day after day what I had to teach my pupils ... So a teacher who learns his lesson for the next day ... hahaha ... But now I can do this all by myself ... LOL ... The first years of my illness I gave extra lessons to boys and girls who had problems with some subjects. But now I don't do that anymore because it is too fatiguing for me.

I loved to go to other places, not big cities but very small towns in the mountains or to the seaside. There I settled down after a long school year. I loved to walk on the beach or in the wood. Nothing to disturb the peace and quiet. You still can hear the birds singing and from time to time you can see a deer or even a red deer or a wild boar. I love the restful sound of the sea and the silence of the woods.
I used to make a lot of pictures and video movies of our trips. Photography and video were one of my favorite hobbies. I also made (running) commentary on video of marriages in a professional studio. I followed the new, young couple a whole day (from 8.00am till 1.00am) with the video camera and after a long day, I had almost 12 hours of video of them. The following days were for the montage and editing all the important parts of that day together with music and titles and all that stuff to an one hour movie. They all were very happy with the results.

I love good music. Good music makes me forget my sorrows and it makes me feel more relaxed. Well I guess it does with most of us. I hate heavy metal, punk, funk, and that kind of music, it has to be soft and easy listening music.
If you want a lyrics of a song , just go to the site


.
It's a real nice site and you can find almost every English lyric you want. It is very user-friendly.


I love a good movie as there are thrillers, comedies, cartoons, love stories and some dramas. I hate unnecessary violence on the screen and too much sex. I think they use them too often in a movie these days and I wonder why. It scares me to read in the newspaper and to see on TV, that the violence in the world increases every year and that the age of the criminals decreases.

I love to tease everybody around me and I love to make jokes but I can stand them too.

I also like « playing » with the computer as long as the computer doesn't play with me and wonder what ... most of the time it does …aaarrrggghhh !!!

I have great fun with my cyber friends. From time to time I surf on the net to look for something interesting and so I always forget the time I am on. Since January 1998 we are connected to a network cable modem, so I don't have to watch the time that I am on the net anymore. I have free access to the net the whole day for a fixed price now. Lucky me huh !! ... LOL ... I love to surf on the net and to chat with my cyber friends ...
I live in the Dutch part of the Belgium ("Flanders")(Europe) in the suburb Hoboken of one of the most important ports of Europe. They call it the « Gate to Europe » So if you don't know it by now, you will never know it ! My native language is Dutch, but I understand French, English and German.
Do you want to know more about Hoboken !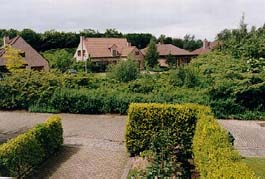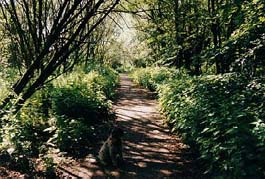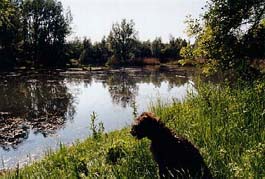 © Juli 1997 - MCAries
This are a few pictures of the neighborhood where I live.
(top left) a picture taken out of my kitchen window
(top right) a picture of Polderbos
(bottom) a picture of a small lake in Polderbos with in front, my dog watching the fish.
I am happily married, since 1975 (June, 28th is my wedding anniversary, so guys, write it down in your agenda, ... and send us an anniversary card!!! that will remind me that I have to buy something for my wife too... LOL). I have a wonderful wife, she is really a woman after my own heart. On the back window of my car, there is a sticker with the following heading on it : "I love my own wife, isn't that stupid ?"... LOL ... She works as a secretary in a big company of telecommunication.


She is not as tall as I am but that is no problem for us ... hahaha ... Because most women don't like to say their weight or their size, I will respect this and not tell you all her "details" ... Just look at the picture and try to figure that out ... hahaha ... She likes to read a good book and she likes to watch movies as there are thrillers, dramas, love stories, comedies. It's a good movie when she has cried a lot. Gee … women !! … LOL … She hates needless violence and too much sex in a movie (just like me). Snatches from her favorite writers are Agatha Christie, Sue Grafton, Jack Higgins, Patricia Wentworth, Patricia Highsmith, Robert Parker, ... She likes to take a walk with our dog Pruts. She also likes to meet new friends and she is very interested in history especially the history of Antwerpen. She always helps other people because she wants to see them happy. She loves shopping with her friend (woman) and to visit other cities.
My wifeTaurus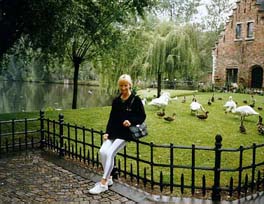 © Juli 1997 - MCAries
We have only one son, maybe you will know him better as "Coyote" or "KCCoyote" which are his nicknames on the net. He is a great kid. He used to play soccer; he was a goal-keeper in the local soccer club. No many balls entered his goal. They won a lot of matches. He still follows every soccer game on TV and he probes the newspaper to the bottom to get all the latest news and scores. Now you can call him a "passive player" because he has a lot of soccer computer games (also Hockey, American football, Baseball, ...).
His favorite soccer team is Germinal Beerschot Antwerpen.
For more information about Germinal Beerschot Antwerpen go to the site

He stopped playing soccer because he went to the University of Antwerpen U.I.A.
For more information about the University U.I.A. go to the site

He studied information (computer) science. That's good so he can help his dad if he is in troubles with the computer. He is a real computer freak. He is always surfing on the net to find some new programs and then he installs them on his (read "my") computer. That's the reason why I always have to re-ask you my authorization for ICQ again and again. So don't blame me ... hahaha ...
In July 2001 he graduated (computer science) successfully at the U.I.A. Now he works at a computer software company (Inventive Designers) in Hoboken Belgium.
For more information about the company go to the site

During summer holidays, he used to works in a shop where they sell and repair computers (Computer Paradise).
For more information about the company go to the site

He repaired and assembled computers. When his boss, who is in fact a real good friend of him, needs a help in the shop, my son also "tries" to sell computers. Sometimes he even sells his own computer, in which I have spent all my money, to his own dad (this way I paid it twice). So he can buy the newest computer technology with my money again … yeah great … kids !!! … LOL
He loves to tease his parents and we all try to be the best, well "sometimes" we let him win ...hahaha ...
He loves to make new friends on the net and he loves to play computer games, all kind of games : action, adventure, strategic, and so on. He always buys the latest versions of a game. He loves to play chess and round games like Trivial Pursuit. He takes part in quiz when they are organized at the University. He really likes to enlarge his knowledge every day.
My sonAquarius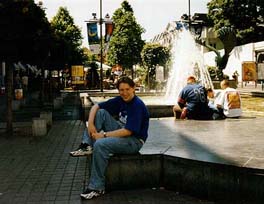 © Juli 1997 - MCAries

In December 2001, he married a lovely American girl. She is from Minnesota but now she lives in Belgium. I'm sure I will make a lot of parents jealous when I say she is the sweetest daughter-in-law to have. Of course I can't stop teasing so I tease her all the time but she is also very good in teasing me and she hides my stuff all the time so I have to find it before she leaves otherwise I have to wait till she comes back to visit us so she can tell me where she hid it ... aarrgghh ... LOL
She already can talk Dutch (not fluently but she does her best) but understands it quite a bit so we have to watch out what we say in Dutch ... hehehe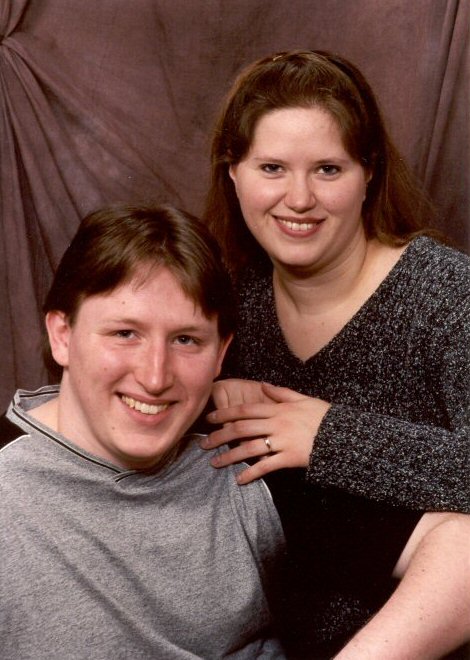 © Februari 2001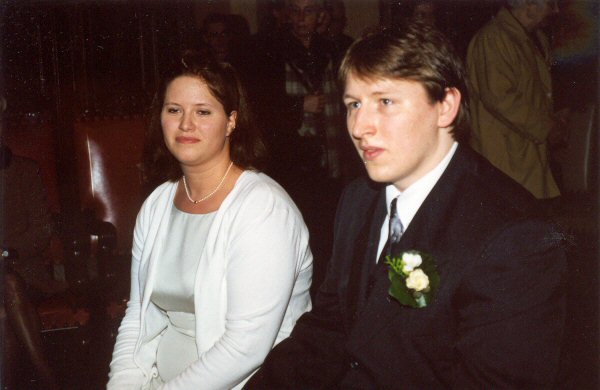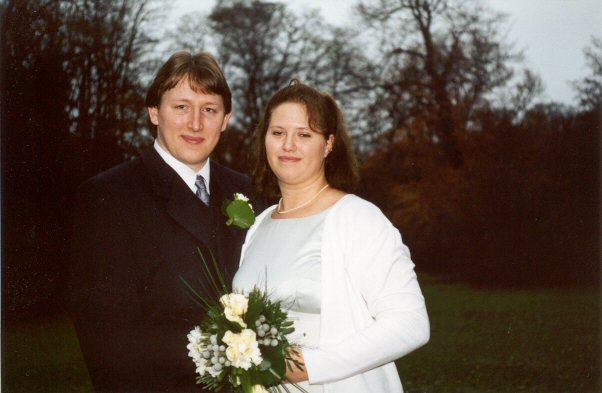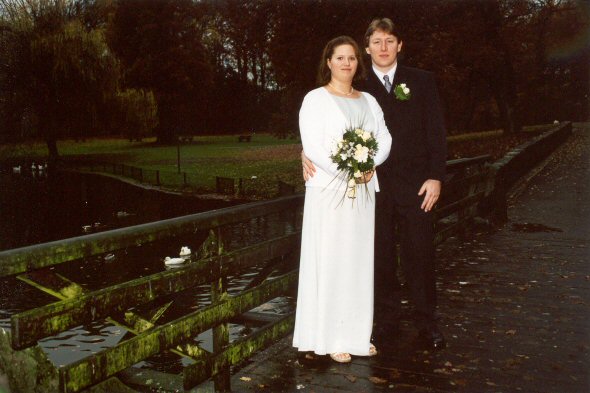 © December 2001
My daughter-in-lawTaurus
On Friday July the 2nd, 2004 at 3.35 pm, I really got a very big surprise ... a GRANDCHILD !! When she was born, she weighed 2,760 kg (6 lb 1.5 oz) was 47 cm (18.5 inches) long. The delivery went well and mother and daughter were and still are doing fine. The delivery went so fast that the gynecologist almost didn't have the time to put his gloves on. On Sunday they left hospital so they stayed for 3 days. She's adorable and such a sweety. She still sleeps quite a bit. She only wakes up to eat ... hehehe ... so every 3 or 4 hours she just moans but not really cry. The next photos will tell more about her.

Pre-load All Pictures
- View pictures in this window.
- View pictures in remote window.
- slideshow | - photo album


Delay: seconds

Search for a photo:
Friday, September 17, 2004 at 01:35:58
My grandchild
Cancer

I also have a "dog" but I don't know the breed. I guess he is a mixture of a lot of breeds but whatever he is really a nice and friendly dog. His name is Pruts. He hates cats, just as I do. We have a neighbor who has a lot of cats, they call their house "the cat's place" but all their cats come to shit in MY garden … Gee … I hate that because I have to clean their droppings all the time … yakes … LOL … Well maybe now I understand why they call us 'shit farmers' … LOL … Pruts likes to sit on the couch with his master : the most beautiful moments of his life. He loves to cuddle. He can look very sad so you can't refuse him anything, well that's what my wife said. If I look sad to my wife, I can't get what I want, but he can get anything from her ... And I thought a dog wasn't smart ... yeah !... yeah ! ... hahaha ... Hey I want to be a dog too ... hahaha ...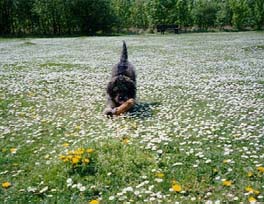 © Juli 1997 - MCAries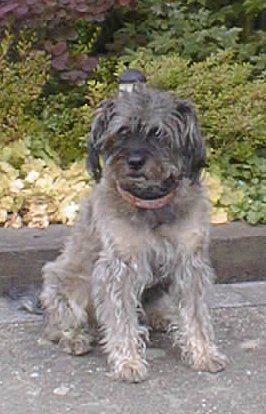 © September 1998 - MCAries
Pruts is proud to be a member of Marshall's Posse of Deputy-Dawgs.
You may visit Marshall and all the Deputy-Dawgs by clicking on Prut's badge.
© July 1999 - Arlene