CFS


(Chronic Fatigue Syndrome)
What's in a name ?
Old medical reports prove that there was a similar post-infectious disorder ('febricula') in 1750 that was written down by Sir Richard Manningham.
In 1956 the name Myalgic Encephalomyelitis (ME) was used for a post-infectious syndrome in North East London. Recently the 'Post-Viral Fatigue Syndrome' (PVFS) is synonym for 'myalgic encephalomyelitis' (ME).
In the USA they use the terms 'Chronic Fatigue (and) Immune Dysfunction Syndrome (CFIDS)' and 'Chronic Fatigue Syndrome with Encephalopathy'. Some doctors rather want to use the term 'Chronic Fatigue Syndrome' (CFS) to describe the illness because this term doesn't refer neither to etiology nor pathology.
In Japan they refer often to 'Low Natural Killer Syndrome'.
My story.
This is going to be a boring story for those who don't have CFS because they can't understand what a person who has CFS, goes through.
It all started in December 1990. I was 36 years old. I first thought I needed a vacation because I was extremely tired and I thought it was of all the teaching and preparing to make my classes agreeable for the students. Most of the time I was working very late at night : correcting tests, preparing my lessons, writing courses for the students and so on. So I had a very stressful way of life. And I was that happy when the winter holidays came so I could get my rest and after the holidays I would have enough energy to start classes again. But that was reckon without my host. I didn't feel any better after the winter holidays. On the contrary I got a lot of headaches, problems with my stomach, intestines, tinnitus, paraesthesia, sore throat, abnormal temperature, sleep and mood disorders, concentration and memory problems, couldn't stand any heat, chest pain, shortness of breath and so on ...
So the first thing I did, was going to see my family doctor. He said I was extremely tired because I wanted to do too much at the same time and didn't take enough rest. So he wrote me a few days of sick-leave and said I only had to rest all day long and to take some vitamins. After a few renewals, I didn't feel any better at all. So he sent me to a specialist and I had a complete check up in the hospital, most of the CFS sufferers will know what I mean. After a few days, he would get the results of all the tests. Yep, I hear you say : "nothing special ?" Right you are ! I was as fit as a fiddle, he said, so nothing was wrong with me. He said it was all in my imagination. I needed a good talk with my wife and it will go away, the specialist assured me ... yeah why not ... he didn't understand what I went through ... he didn't take my symptoms for real ... nothing to see in the tests so nothing was wrong, but how did he explain all these morbid symptoms ? Well that wasn't in his book so ... buzz off ... There I was standing in the dark. I went to several doctors and most of them only gave me anti-depression pills but I didn't feel depressed at all ... yeah but who wanted to listen to my story ... well nobody did ... only my wife ... she was a real support during these days of my survival through all these a**holes of doctors who didn't listen to my cries for help ... after a few months and after a lot of so called "doctors" ... a young graduated doctor said that I could suffer of CFS and she would do some tests. The tests were positive, I had the antibodies of the Ebstein Barr virus in my blood and that could be a symptom of CFS. She did some more tests (CD4 - T4 ) and yes they all were positive. Although there are no specific tests for CFS, some tests can confirm there is/was a virus infection. Finally came the cold shower, they didn't have any remedy for it. I have to live with it ... Geez ... I really felt terrible and I almost got depressed but as a real fighter and with the support of my wife, I survived. I went to see alternative doctors, homeopaths, acupuncturists, ... I think I had them all ... so finally I gave up and tried to live with it.
But that wasn't all of course, what about my work as a teacher ? Yes you guessed it, after one year of sick-leave, they fired me and they obliged me to go and pension me off. That was a great disillusionment ... my pupils !!! ... what did I have to do without them ... I lived for school ... that was my passion ... all gone with only one letter of the State ...
Now, after many years and still having CFS, I realize of course I couldn't go on with teaching, but it was very hard to see they put me off. In the letter they wrote, I wasn't capable to do any other work ... that was right ... but try to convince somebody after his long way to survive his disease ... In the beginning I still could visit my relatives and friends but it got worse so now, I am sitting at home all day inside the house, because I can't go out anymore, I get too tired if I take a short walk and after that I have to pay for it ... so it's better not to go out anymore and do some very easy things at home, like making dinner for the family (I have a whole day for that), and chatting with friends on the computer ... I have bad (very often) and better periods (a few). One thing I haven't lost is my sense of humor and it's good I still can laugh, even with my disease ... I try to be good for my family and that's all that counts for me now.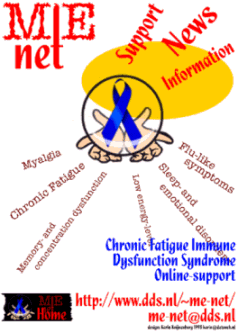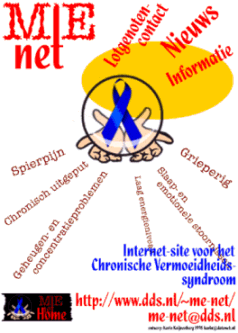 English version - Dutch version
The CFS homepage
CFS Chronic Fatigue Syndrome/FM/ME/CFIDS (HECFS)
Information Technology
Ampligen Finally Breaks Free of Red Tape
ME Support in the Midlands
The CFS FAQ
Fighting ME