Info of Hoboken
Hoboken is a suburb of Antwerpen. It has an area of 1,060 ha (2,619.26 acres) and it has 33,280 inhabitants.
In the name "Hoboken" we recognize two words "Ho" which comes from "hoog" (high) and "boken" which comes from "buechen" and means beeches. So it used to be "Hobuechen" (1135). The name comes of the high beeches which you could find on its territory. During the history it changed many times : 14th and 15th century : Hoeboeken, Hoboeken, Hoeboken; 16th century : finally Hoboken.
Legend :
When the magistrates tried to find a suitable name of the new municipality, they saw by chance a little child who dropped her "boterham" (a slice of bread and butter) and she cried out "Ho, boken !" (Ho, slice of bread and butter !) (the word "boke" is a dialect for "boterham"). They liked this exclamation and named the municipality "Ho-boken".
Inhabitants :
The inhabitants of Hoboken have two nicknames : the "strontboeren" ("shit farmers") and "beerscheppers" ("somebody who shovels night soil (muck)" . How did they get these nicknames : well before 1870 most inhabitants of Hoboken were horticulturists and agriculturists. Night soil was the only known manure (fertilizer) and most of the time they went with their barrow and sewage barrel from the cesspool to their fields to manure (fertilize) them. In March, 1986, Ria en Djon Lundström composed a song for the inhabitants of Hoboken. The lyrics are written in dialect so you will not find any words in a dictionary, and if you don't know how to pronounce the dialect, it's very difficult to understand it too. Here is the score of the song.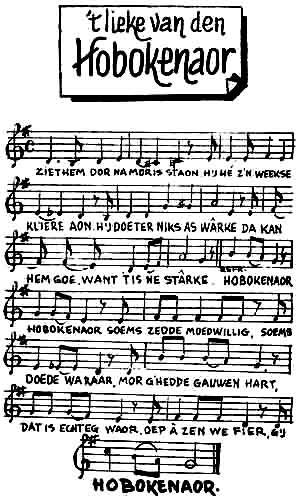 click on the piano to hear the song
The original song "We are the champions", which is playing, will stop !
Lyrics of the song :
Aentwaereps dialect
Translation of the Antwerp's dialect

eerste strofe

Zie them dor na mor is staon,
Hij hé z'n weekse kliere aon.
Hij doeter niks as wârke,
Da kan hem goe, want 't is ne stârke

first strophe

Look him standing there
He still wears his weekday clothes
He is always working
That's what he can do the best, because he is very strong

refrein

Hobokenaor, Hobokenaor
soems zedde moedwillig,
soems doede wa raar.
Mor g'hedde gauwen hart,
Dat is echteg waor,
Oep a zen we fier, gij Hobokenaor !

chorus

Inhabitants of Hoboken, inhabitants of Hoboken
From time to time you are spiteful,
From time to time you act strange.
But you have a heart of gold,
That's really true,
We're proud of you, you inhabitant of Hoboken !

tweede strofe

Hij mokt den polder stark en gezond,
Hij giet zennen beer dor oep de grond.
Laot ons da nie vergete,
As we groente en petatjes et.

second strophe

He makes the polder strong and sound,
He pours his night soil on his fields.
We won't forget it,
If we eat vegetable and potatoes

refrein

chorus

derde strofe

Muste is voorbij da beeldje gaon,
Raok het dan gerust mor aan.
En doede wenske met a oege toe,
't Komt altijd uit, onthoud da goe.

third strophe

If you would pass the little statue,
Don't hesitate to touch it.
And make a wish with your eyes closed,
It will come out, just remember this.

refrein

chorus
Escutcheon :
It's red with a shield of silver with three blackbirds. On the top you see the picture of a crucified Christ, it's from gold. On both sides of the shield there are two griffins, also from gold. This all is on a red drapery set off with ermine. On top you find the duke's crown of the "Holy Roman Empire".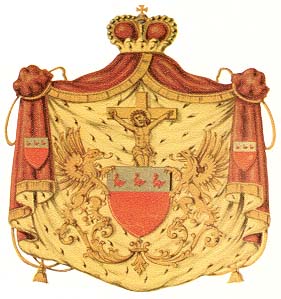 Some of you will know the city in New Jersey (America) with the same name or from the song of Frank Sinatra but Hoboken in Belgium is world-famous. Even the Japanese people know it. They know it from the legend of "Nello and Patrasche" There is a statue in front of our info-center and every year a lot of Japanese and Korean people come to take pictures of it and of the "Red Windmill", although the real one doesn't exist anymore, there is still a faithful miniature, scale 1/5, on the place where the mill stood. For more than 400 years it stood there and it was the only one of its kind in Hoboken. On the "Saint-George engraving of H.Cock, after a model of Pieter Breughel the Elder, it is also represented. The mill was owned by the d'Ursel family which leased it and sold it in 1905 in order to parcel out the land. On this land was amongst other things built the municipal "Molenschool"(Mill school) in 1907 and it's still a primary school.
If you want some more info of the legend of Nello and Patrasche, click the icon.